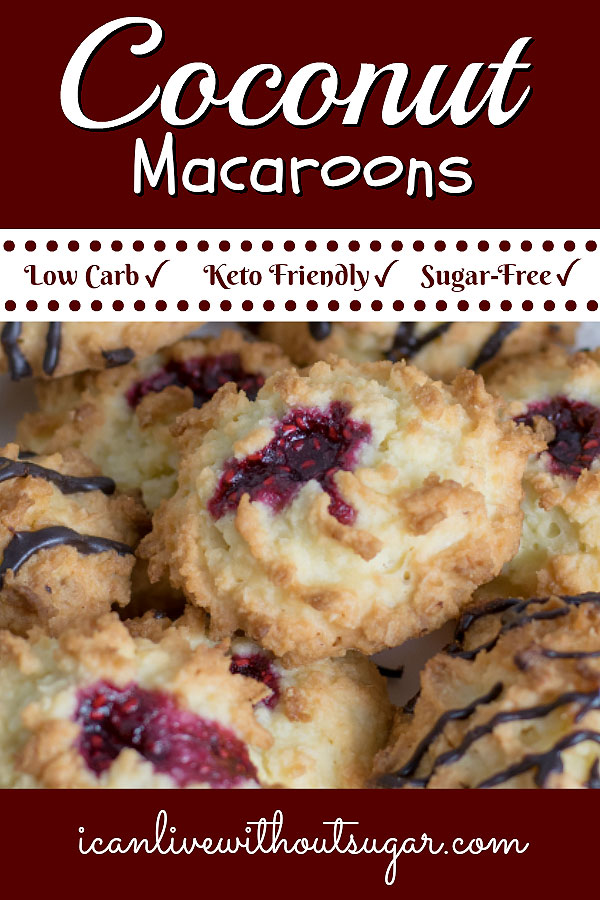 Oh, my! Is there anything more delicious than chewy little mouthfuls of low carb keto coconut macaroons?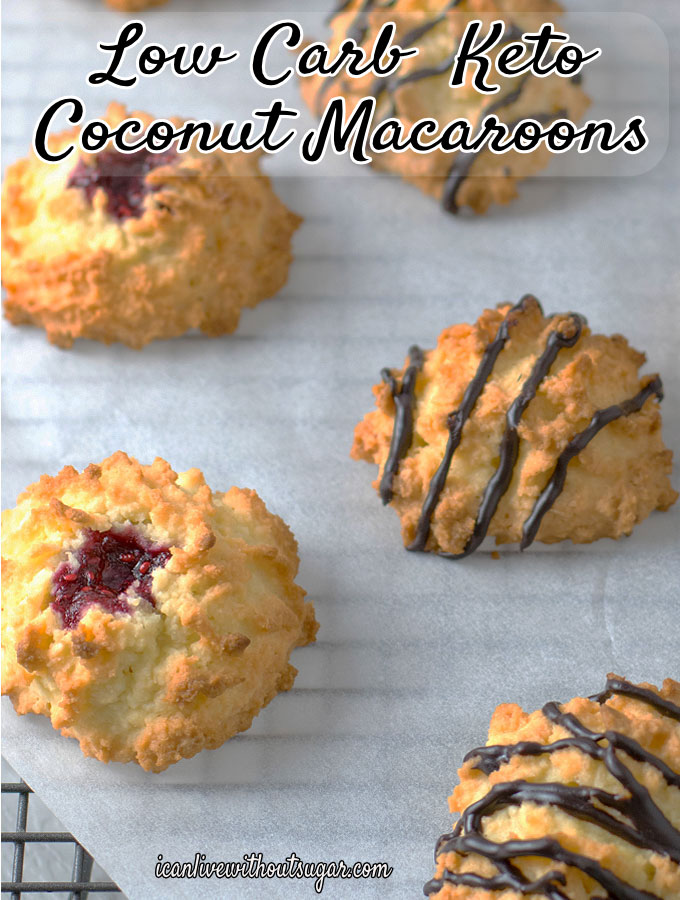 How can anyone resist a sweet, crunchy mouthful of coconut, jam and chocolate? Beats me. But then, I'm a fully-fledged, diehard coconut lover, so I'm totally biased. Can you believe there are some people who don't like coconut (gasp!). It takes all kinds, I suppose. Which is a good thing, really, because that leaves all the more for YOU and me! Especially when it comes to coconut cookies!
Speaking of which, I simply had to learn how to make keto coconut macaroons when my husband kept bringing amazing (but sugar-filled) macaroons home from an Italian bakery. They were way too tempting and so darn good.
Who can stop at one, I ask?
Yes, I caved. Big time! But enough was enough. It was time to scan the nutritional details on that (empty!) pack to see what was they were made of and how I could ketofy them.
Turns out it wasn't so hard to swap keto ingredients for the not so healthy ones. No more bakery cookies for me (or for you!). These low carb keto coconut macaroons taste every bit as good as the sugary ones—but so much healthier. Yay, keto!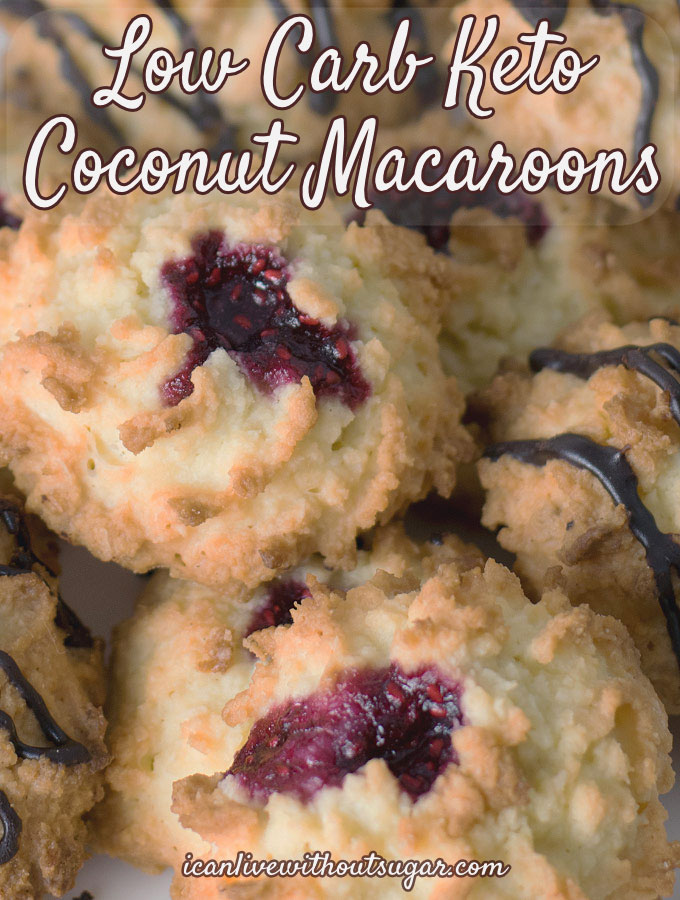 Low carb keto coconut macaroons are quick and easy to make
Most macaroon recipes, including these keto macaroons, require egg whites to be whipped till very stiff, before adding the rest of the ingredients. Piping the mixture rather than using a spoon gives them their cute swirly shape, and allows slightly darker, crunchy little peaks to form on top. Be sure to use a strong piping bag and a large piping tip. The mixture's a bit stiff so you'll need to use a little elbow grease to squeeze the mixture out as you pipe.
I use items like these that you might also find helpful
16-inch Decorating BagBuy Now
Drop Flower Icing TipBuy Now
Large Tip CouplerBuy Now
After your macaroons are on the trays, add some jam to the tops of half the macaroons (or leave them plain) before you bake them. Every oven is different so keep an eye on the macaroons and check them after the first 10 minutes. My oven can be a bit finicky so I usually turn the trays around and swap the shelves they're on so the macaroons cook evenly. I also reduce the temperature a little at this point if the macaroons have started to brown. Another 15 minutes of careful watching and out they come, all golden and crunchy. And the aroma! It's warm, sweet and coconutty. Good enough to challenge the finest Italian bakery!
For added variety, I've used some of my 5-minute sugar-free raspberry jam for half the macaroons and a keto chocolate topping piped in thin stripes for the rest. You'll find the easy keto topping in the recipe below. I usually make it while the macaroons are out of the oven and cooling. The macaroons must be completely cold to the touch before you pipe on the chocolate stripes. Also allow a little time for the chocolate to set once it's piped on.
Then comes the best part…time to eat!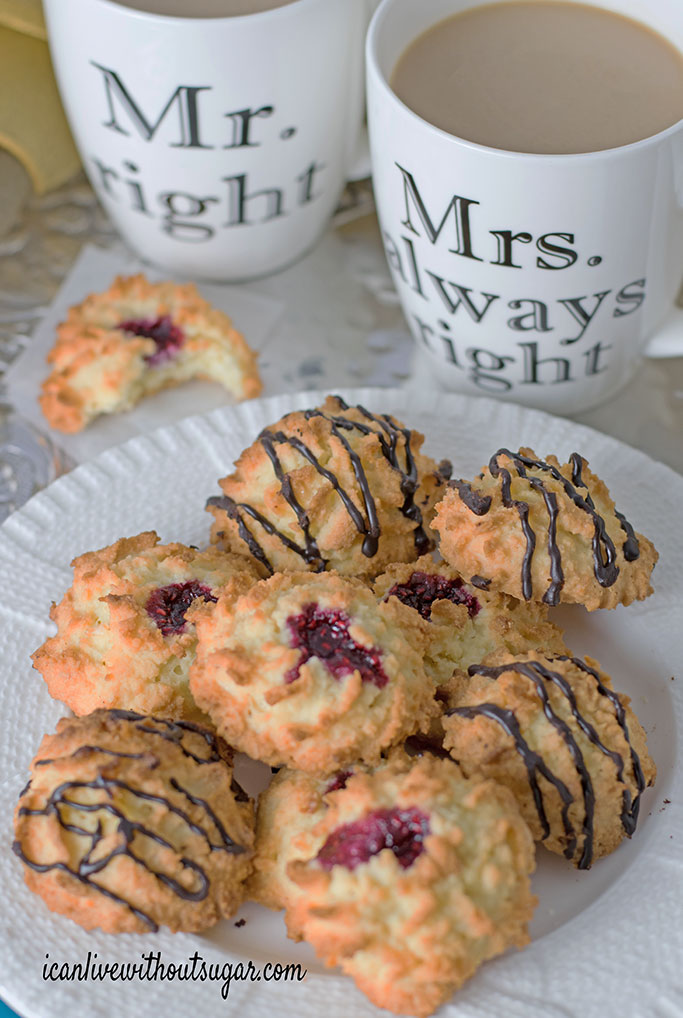 Here's the recipe for my easy low carb keto coconut macaroons. I hope you enjoy them!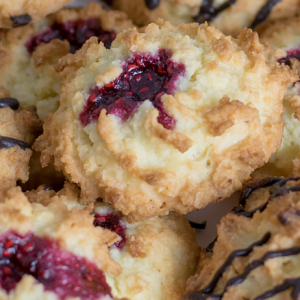 Low Carb Keto Coconut Macaroons
These low carb keto macaroons are deliciously moist and chewy. Fill with jam or drizzle with chocolate. They're scrum-diddly-licious to the very last crumb. You must try them!

Print
Pin
Rate
Instructions
Preheat Oven and Line Two Cookie Sheets or Trays
Coconut Macaroons
Separate eggs and beat the egg whites until very stiff (approx 5 min with a stand mixer).

Mix *xylitol and erythritol together and add to egg whites, one third at a time. Beat well and scrape down sides of bowl between additions to ensure sweeteners are fully dissolved into the egg whites.

Next add egg yolks, coconut emulsion, and almond flour. Mix on low speed until combined.

Now stir in the shredded coconut.

Pipe small or medium cookie sized mounds onto prepared trays, leaving a little room between each (makes around 36 small or 24 larger sized macaroons).

Press a clean fingertip into the tops of half the macaroons. Fill with about 1 tsp sugar-free jam.

Bake coconut macaroons for approx 20-25 minutes. After the first 10 minutes turn trays around and swap shelves to ensure even cooking. Reduce temperature a little if macaroons have already started to brown. Keep a close eye on them for last 15 minutes. Macaroons are ready when golden and slightly crunchy on top. Remove from oven and lift macaroons gently onto a mesh cooling tray covered with non-stick baking paper.
Sugar-Free Jam (for half the macaroons)
Chocolate topping (For the rest of the macaroons)
Mix cream and powdered xylitol together in small bowl until xylitol is completely dissolved. Break Lindt chocolate squares into smaller pieces and add to sweetened cream mixture. Microwave for 30 seconds.

Stir chocolate cream mixture until chocolate is fully melted and put into a piping bag with a very small-holed tip. You can also use a small freezer or plastic sandwich bag; fill it with chocolate topping and snip a tiny hole in one corner. Pipe thin lines of chocolate over the second half of macaroons once they've completed cooled.
Nutrition
Calories:
79
kcal
|
Carbohydrates:
3
g
|
Protein:
1
g
|
Fat:
7
g
|
Fiber:
1
g