Orange almond cupcakes, low carb, sugar-free, keto. YES!
I'm thrilled to share this recipe with you. These orange almond cupcakes are truly delicious and make a memorable treat. In addition to being low carb, sugar-free and keto, they're grain-free too! The recipe can also be made as a whole orange almond cake (see Recipe Notes for full instructions).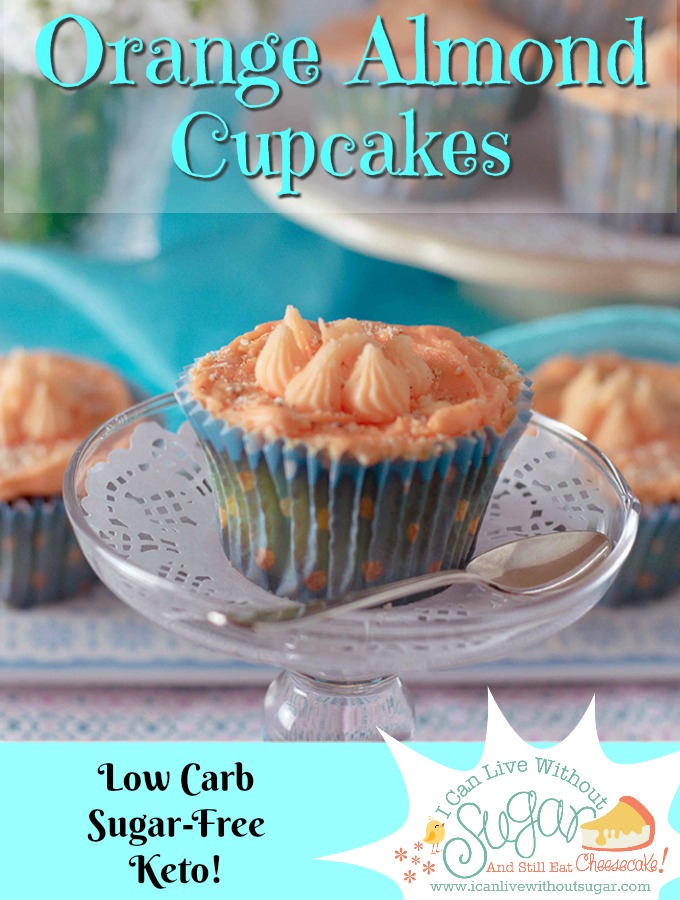 The inspiration for these orange almond cupcakes comes from recipes containing regular sugar and whole oranges. To make this low carb sugar-free version you'll need just six ingredients (extra for the frosting).
These scrumptious little cakes tick all the right boxes!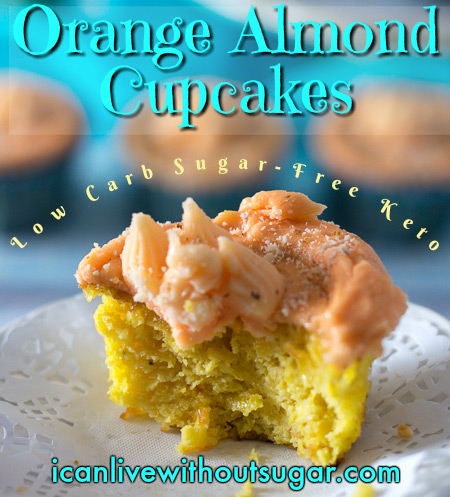 Three cheers for healthier treats that…

Look good
Smell good
Taste good
These cakes have the most beautiful aroma and orange-speckled crumb. Plus orange buttercream frosting. Y-u-m!
They're the perfect crowd pleaser. I do hope you like them!

Regular cupcakes usually contain sugar and white flour, which translates to high carb, low fiber, and a hefty dose of gluten.
Sugar and white flour make a deadly duo and are two of the worst foods for weight loss or maintenance. They also rank highly as foods to avoid for people with diabetes, polycystic ovarian syndrome, coeliac disease or irritable bowel syndrome!
Orange almond cupcakes that are low carb and sugar-free are the perfect alternative and a much healthier option!
Healthy cupcakes? You betcha! These taste just as good, if not better, than the regular kind. Instead of high carb white flour, almond flour is used, which is gluten-free, low in carbs, high in fibre and a high source of protein. This makes them suitable for most eating plans.
Bob's Red Mill Super-Fine Gluten-Free Almond Flour, 3 Pound
I recommend using almond flour made from the nut only, like this super-fine almond flour by Bob's Red Mill. While you could use Almond meal, the results may not be as good as almond meal contains the skin and the nut, which gives it a coarse texture.
To make these orange and almond cupcakes 100% low carb and sugar-free I've gone for a combination of two sugar-free sweeteners, Xylitol and Erythritol.
If you've read some of my other posts, you'll know that I prefer using a mixture of sweeteners rather than one as it rounds out the flavours and creates just the right balance.
I honestly can't tell the difference from regular white sugar when I use sweeteners this way!
NOW Foods Erythritol 2.5-Pound x 1
Now Foods Xylitol 2.5 pound bag x 2
It also helps to powder your sweeteners with a coffee grinder or blender before you use them. They blend and dissolve more easily with other ingredients this way. Weighing powdered sweeteners (and other ingredients) rather than measuring by the cup is also recommended. Low carb specialty products are often more expensive than the regular kind, so it pays to be precise.
There's a wide variety of kitchen scales to choose from but these three have handy features that make them a standout!
&
Baker's Percentage Function
Nutritional Values Built In
Huge 10 kg (22 lb) capacity
These orange almond cupcakes contain whole oranges which are an excellent source of Vitamin C and minerals, along with some carbs.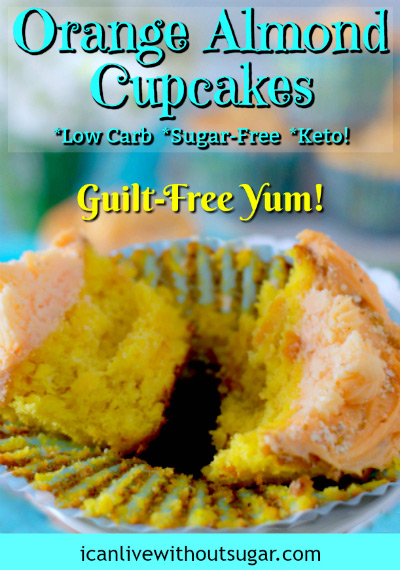 Although oranges are a little on the high side when it comes to carbs, when an ingredient is the star of the recipe, you need the REAL thing!
Orange cake without oranges? I don't think so!
I do like my orange cakes extra orangey, though! To achieve this (without adding carbs) I mix one teaspoon of Lorann's orange emulsion in with the oranges. The best of both worlds, right?
Low carb sugar-free extracts and emulsions are a great way to boost or replace ingredients. However, not all brands are created equal! I've tried a number of them to see what they're like but I always come back to Lorann. Lorann emulsions are used teaspoon-for-teaspoon like regular extracts, and their little dram bottles contain super concentrated extract drops that pack a powerful punch (less is more!).
Orange almond cupcakes are perfect for all kinds of occasions and make portion control a snap!
Making these orange almond cupcakes is a breeze, but there is one step that takes some time. This recipe uses whole oranges, the peel and all, which can be quite bitter. To counteract this, you'll need to boil the oranges in a pan of water for two hours. (If just the thought of "two hours" freaks you out, I've included a sanity-saving tip a little further down).
If you're an early riser, I recommend boiling the oranges first thing in the morning. More of a night owl? Me too! Boil the oranges in the evening and relax while they simmer. Netflix anyone?
When boiling the oranges, it's a good idea to set a timer for one hour to remind you to check the water level in the pan. When the timer goes off, that's your cue to top up the water and reset the timer for a further hour. Easy!
Once the oranges are ready, remove them from the pan (tongs help) and place on a cutting board. Leave the peel on and when cool enough to touch, cut the oranges into quarters and remove and discard any thick, pithy membrane inside. Next, put the oranges in a blender and blend until you have a chunky puree with tiny flecks of orange peel throughout (not large pieces). I use a Vitamix for this as it has a handy tamper that makes it easy to push the fruit down into the blades while the blender is still running. It does a great job, and I get to keep my fingers!
Empty your orange puree into a bowl and leave in the fridge to chill—overnight if you're a night owl or just a few hours if you're an early bird.
Retro Kitchen Timer Wall Clock
Heavy Duty Kitchen Tongs
Vitamix Complete Kitchen Set
Sanity-Saving Tip: Although the "boiled orange" method produces the best results flavour-wise, you can skip it if you're really pressed for time. Do this instead: Wash the oranges thoroughly and pat dry. Zest the oranges and set zest aside. Discard the rest of the peel and cut oranges into quarters. Remove and discard any thick, pithy membrane. Puree the fruit gently (you want chunky not slushy) and then mix in the zest. I prefer boiling the oranges as I like the little tidbits of orange throughout each cupcake. The choice is yours. Either way, you'll be good to go!
The rest of the recipe is plain sailing. Once you've mixed up your cake batter, you'll spoon it into cupcake liners. I used to make a huge mess doing this. Not anymore! Thanks to my Oxo cookie scoop. I bought the medium sized scoop which holds 1½ tablespoons of cake batter or cookie dough (it also comes in small and large sizes as well as a handy 3-pack that has the lot). The little lever inside the scoop releases the contents just like a regular ice-cream scoop. No more sticky batter fingers! I used about 1½ scoops per cupcake for this recipe which gave me 18 in total. Before you start scooping put your cupcake liners into your muffin tins to provide support and help the cupcakes keep their shape and bake evenly in the oven.
Amazon has a HUGE selection of cupcake liners to choose from. There's something for every occasion. They also carry a variety of decorative icing tools. I used the silicone bulb and a piping tip from the 8-Piece Frosting Kit below to create the small swirls on my cupcakes. As you can see from my photos, I'm still getting the hang of it! I also purchased some Russian icing tips which I'm dying to try!
16 Style Cupcake & Muffin Liners
8-Piece Frosting Kit
Russian Piping Tips Set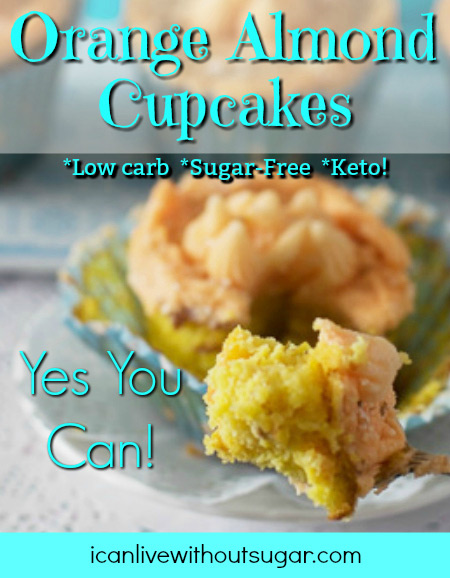 Thanks to the orange puree, these orange almond cupcakes are incredibly moist and keep really well—up to a week in the fridge. Do use an airtight container when storing them as this helps prevent strong odours from other foods creeping in and spoiling your cakes.
If you're planning to transport your cupcakes to work functions or family gatherings a cupcake caddy is a brilliant idea. I don't know about you, but I've had my fair share of bumpy rides and "cake disasters". Not a pretty sight—me or the cakes!
While I haven't tried it myself, these cupcakes should be okay to freeze. I'd suggest making the cupcakes ahead and freezing them in freezer bags (pressing out all the air) and frosting later when you're ready to eat them. If you try this, I'd love to know how it turns out!
The only thing better than making cupcakes for yourself is giving them as a gift—especially when they're low carb and sugar-free. Imagine the look of delight on a friend or family member's face! There's nothing better than a gift made with love to make someone feel truly special.
How good would these orange almond cupcakes look in a cute window gift box tied with some beautiful ribbon?
For now, though, it's all about making the cupcakes, so let's get to the recipe!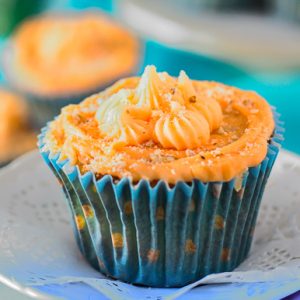 Orange almond cupcakes, low carb, sugar-free, keto and grain free
These gorgeous little cupcakes provide a healthier option to standard sugary fare. They're easy to make, keep really well and are sure to delight family and friends. They make the perfect guilt-free treat (eaten in moderation of course!).
Print
Pin
Rate
Ingredients
Cupcakes:
2

large oranges, approx 10.5oz [300g] each

(use a pip free variety, e.g. Navel)

7.5

oz.

[220g] Xylitol

*or Erythritol

8

oz.

[227g] Almond Flour

6

large eggs

i.e. 2 oz. [60g] each

1

tsp. 

orange emulsion or extract

1

tsp. 

baking powder
Frosting:
5

oz.

[150g] powdered Xylitol

4

T

[60g] butter, softened

1

tsp.

orange emulsion or extract

2-3

T

cream

Optional: orange food colouring** (use one drop at a time until desired shade is reached.)
Instructions
Preliminary Prep
This can be done the same day or night before. Wash oranges thoroughly, do not remove peel. Boil oranges in a pan of water two hours (make sure the oranges remain covered with water). When oranges are done, leave the peel on, and puree in a blender (you want chunky not slushy). Chill for a few hours or overnight.

When ready to make cupcakes, preheat oven to 350 degrees F [180 C] or 320 degrees F [160 C] fan-forced. Put 18 large cupcake liners into muffin trays, this will help liners keep their shape and allow cupcakes to cook evenly.
Cupcakes:
Using a hand mixer or stand mixer beat eggs and sweetener on high for 3-5 minutes until pale and fluffy.

Add baking powder and mix on low.

Add half of the almond flour and mix on low (scrape down sides of the bowl to ensure the flour is fully incorporated). Add rest of almond flour (scrape down sides of bowl as needed).

Finally, add orange pulp and orange emulsion or extract, and mix on low (scrape down the sides of the bowl).

Spoon approx. 2-3 tablespoons of mixture into each cupcake liner, smoothing down the tops with the back of a spoon.

Bake the cupcakes for 25-35 minutes. Ovens vary so keep a close eye on them from the 20-minute mark on. Turn muffin trays around in oven as needed to ensure even baking. Cupcakes are ready when firm to the touch, and a skewer or toothpick comes out clean. Remove muffin trays from oven and allow cupcakes to cool completely before frosting.

Frosting:
Mix powdered Xylitol and softened butter together.

Mix in orange emulsion or extract.

Add cream a little at a time - not all at once (you may not need to use all of it). Add just enough cream to achieve frosting that is thick, creamy and spreadable.

Add orange food coloring if using, one drop at a time, until desired shade is achieved.

Cover frosting with cling wrap until cupcakes are completely cooled and ready to be frosted.

When cupcakes are completely cooled spread one tablespoon of frosting over each cooled cupcake.

Put rest of frosting into a piping bag or silicone frosting bulb and pipe little swirls on top of cupcakes. 

Sprinkle some finely ground almonds over the top of each frosted cupcake. Enjoy!
Notes
*I like to mix two sweeteners together, e.g. 4.5 oz. [130g] Xylitol & 3 oz. [90g] Erythritol
** Red and yellow mixed together can also be used to make orange.
(Just like chocolate, Xylitol is toxic to animals and may prove fatal if ingested. Store Xylitol and/or any foods or drinks containing it away from pets).
Orange Almond Cake Recipe:
This orange almond cupcake recipe can also be made as a whole cake. There's never a slice left when I make this for family functions.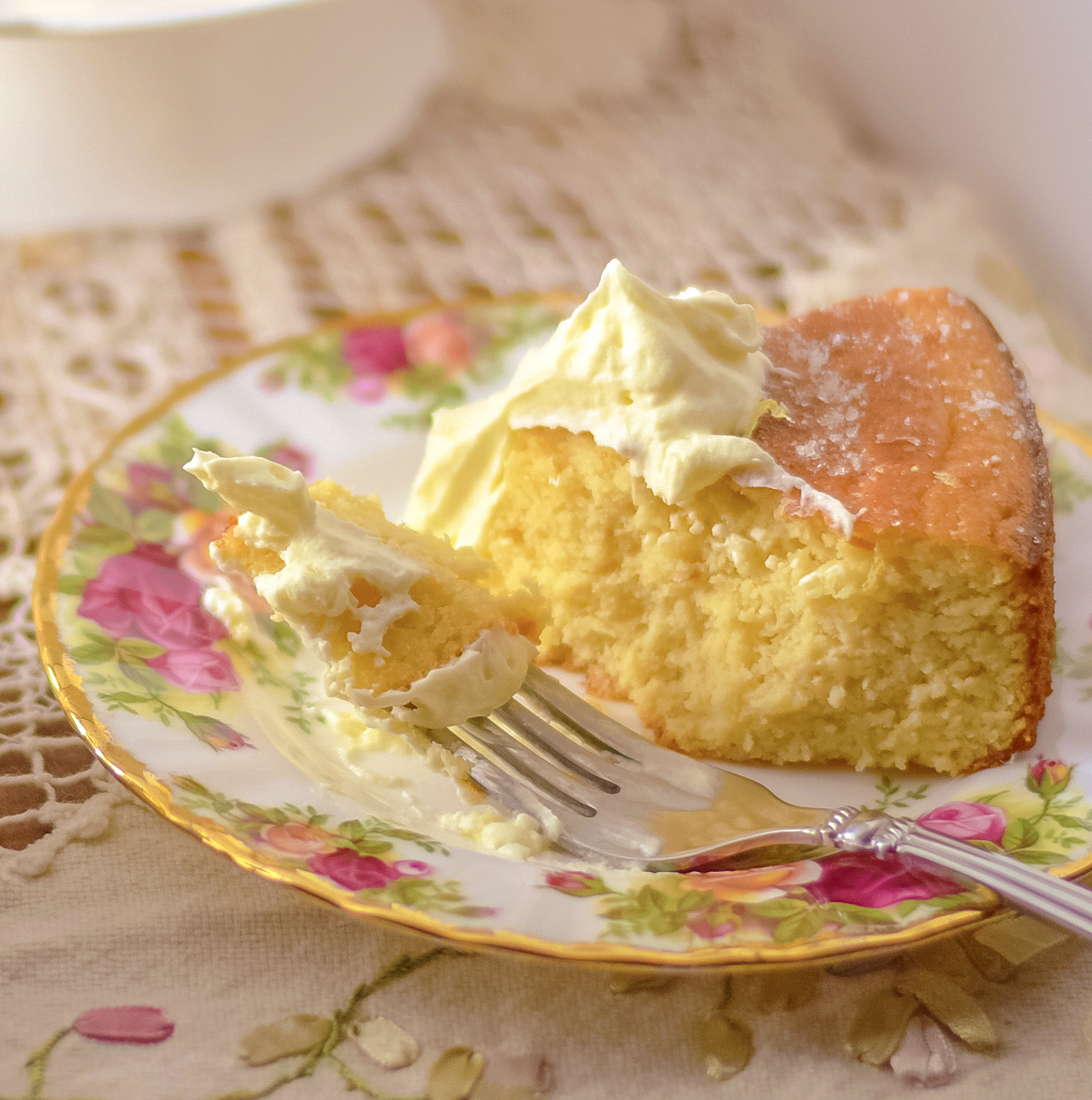 Whole orange almond cake instructions:
Preheat oven to 350 degrees F [180 C] or fan forced: 320 degrees F [160 C]
Lightly grease the sides and then grease and line the bottom of a 9 inch [23 cm] spring form pan with non stick baking paper.
Follow cupcake recipe (omit the frosting).
Pour cake batter into the prepared spring form pan.
Bake for 45-55 mins until top of cake is a deep gold colour and skewer or toothpick comes out clean.
It's important to check cake after first 10-15 mins of baking as it has a tendency to brown quickly on top (this happens to me). To prevent the cake from burning just cover top loosely with a layer of foil and continue baking.
When cake is a deep gold colour on top, firm to the touch and a skewer or toothpick comes out clean, remove from oven and place on a cooling tray.
Gently run a knife or metal spatula around sides of cake before releasing the clip of the spring form pan. Leave cake to cool completely.  When cool, turn cake upside down onto a bread board or flat tray. Carefully run a large metal egg flipper or metal spatula under the base of spring form pan and remove from cake. Carefully peel away the non stick baking paper. Place serving tray on top of the base of the cake and turn right side up.
Store cake in fridge on serving tray and when ready to serve sprinkle top of orange almond cake with powdered xylitol (or another powdered sweetener of your choice ). I fill a metal tea strainer with the sweetener and shake gently over the top of the cake to do this.
Slice cake and serve with freshly whipped cream and sliced strawberries if desired.
Nutrition
Calories:
127
kcal
|
Carbohydrates:
5
g
|
Protein:
4
g
|
Fat:
10
g
|
Fiber:
1
g
Where to Buy Ingredients:
Bob's Red Mill Super-Fine, Gluten-Free Almond Flour
Save
Save
Save
Save
Save
Save
Save
Save
Save
Save
Save
Save
Save
Save
Save
Save
Save
Save
Save
Save
Save
Save
Save
Save
Save
Save
Save