There's no time like the holidays for spoiling family and friends (as well as yourself!). You'll find lots of ideas in this low carb keto gift list from healthy treats to pamper gifts!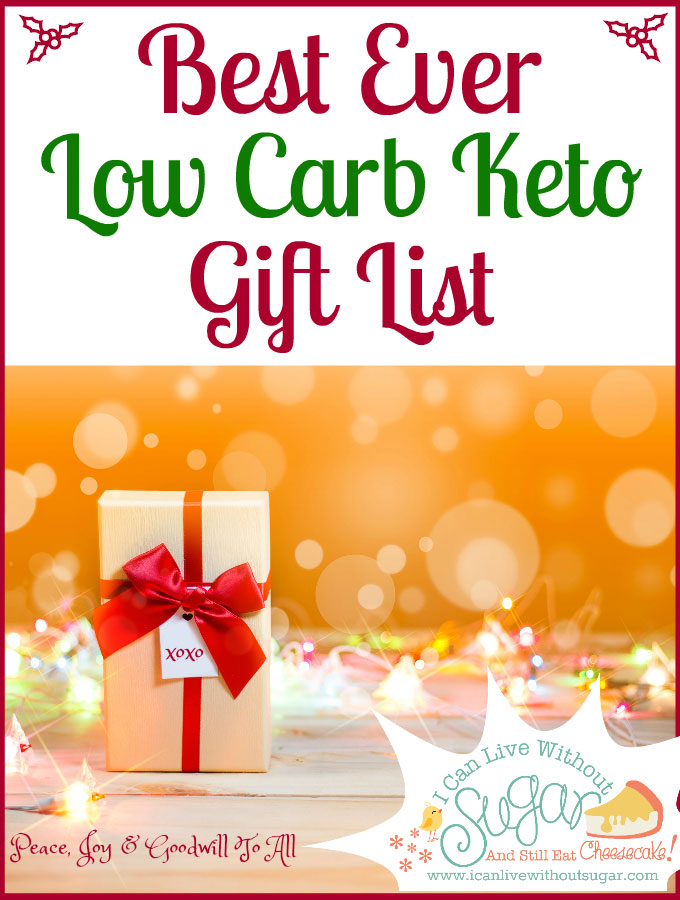 This low carb keto gift list will help you find just the right thing for family and friends who follow a low carb keto lifestyle. It's also a great way to let them know the things you like, too (just send them a link to this page). Win-Win!
Book Lovers Rejoice!
Great reading from the first page to the last!
Eat, drink and be merry with these gorgeous low carb keto cookbooks and guides. Jam-packed with a delicious assortment of low carb, keto, and grain-free options. There's lots of great tips and helpful information. These "healthy eating" treasures deserve a place on everyone's reading list!
&
By Judy Barnes Baker
By Carolyn Ketchum
By Sten Sture Skaldeman
By Em Elless
By Lisa Shea
By DJ Foodie
---
Kitchen Gifts
The kitchen is definitely the heart of the home. It's where meals are created and the place everyone gathers! And, as low carb ketoers know, most meals on this plan are made from scratch, so kitchen gifts are especially welcome!
Protect Recipe books, Phones & Tablets with one of these handy stands when cooking
Cast Iron Cookbook Stand
Kitchen Tablet Mount Stand
E-reader, phone/tablet stand
Tablet Holder & Cookbook Stand
Kitchen Conversions – Quick & Easy – Just Look On the Fridge!
Who can remember every measurement or temperature? Thankfully, you don't need to—these charts do it for you! There's no risk of losing them either, they're magnets that stick to the fridge.
Easy, Peasy…
Magnetic Kitchen Conversions
Measurement Conversion Chart
Culinary Mercer Rules
Cups or Scales? Which is better when measuring ingredients?
Cups are fine for measuring liquids but weighing is much more reliable for other ingredients. Nut flours, sugar-free sweeteners, and other specialty items behave differently to regular ingredients and require greater precision when you use them. They also cost a bit more so it makes sense to be as accurate as possible! The success or failure of low carb, keto recipes depends on using the right ingredients in the right amounts.
Every cook deserves a good set of scales. Whether you're buying for yourself or giving as a gift, you won't go wrong with any of these
Bakers Math Kitchen Scale
Kitchen Scale 22lb (10kgs )
EatSmart Nutrition Scales
Low Carb, Keto Pantry Staples & Special Treats
These products are all suitable for a low carb, keto pantry and include special treats for the festive season. A selection of these on a pretty tray or in a beautiful basket would make a lovely gift.
Whole Bean Coffee Variety Pak
Ghirardelli Unsweetened Cocoa
Almond Flour
Organic Coconut Oil
Organic Coconut Butter
Olive Oil Variety Pak
Baking Powder
Keto Certified Gelatin
LC Food Thickener
Psyllium Husk Powder
Glucomannan Powder
Vanilla Extract
6 Fruit Extracts
Stevia Sweetener
Xylitol Sweetener
Sugar Free Syrup
Sukrin Sweetener 6 Pak
Erythritol Sweetener
Liquid Sweetener 3 pak
Freeze Dried Berry Pak
Blackberries
ChocZero 4 Pak
LC Choc Chip Cookie
Peanut Butter Cookies
Sukrin Chocolate
Roasted Macadamias
Beautiful trays and baskets – top them or fill them with low carb, keto eats and treats!
Handmade Decorative Tray
Serving Trays (Set of 3)
3 Piece Silver Trays
Collapsible Storage Basket
Set of Woven Wicker Baskets
3 Canvas Lined Bakets
Festive bags and boxes filled with low carb, keto goodies make a perfect gift!
EZ Gift Box
2-Pack Giant Gift Bag
Stripe & Polka Dots Bag
Kitchen Wear
Aprons can help get you in the mood. For cooking up a low carb keto storm, that is! There's an apron for every personality.
Sweet and adorable, practical or flirty. Which one SAYS you?
Adult's Hostess Apron
Aprons (Set Of 3)
Cute Flirty Retro Apron
Kitchen Appliances
These days most of us are too busy (and too darn tired!) to spend hours in the kitchen. This presents something of a dilemma as most low carb keto meals consist of real foods made from scratch. This is where kitchen appliances come into their own. They are such great time savers and make meal prep fast and easy. Personally, I can't get enough of them. Bring them on, I say, the more the merrier! Here are just some of the most popular "kitchen helpers" that would make great gifts for the busy cook's kitchen!
Mixing and blending:
Ninja Blender (BL610)
Vitamix 5200 Deluxe Set
Blendtec Bundle
Cuisinart 9-Speed Mixer
KitchenAid Stand Mixer
Bamix-Superbox M150
KitchenAid Mixer Bowl
KitchenAid KFE5T Flex Beater
Tip: If you or a loved one own a Kitchenaid Stand Mixer or are planning to buy one, consider purchasing an extra bowl and a flex beater. It took me a couple of years to do this myself and I wish I'd done it sooner. Having an extra bowl means you don't have to stop to empty and clean the bowl like you would if you only had one. Comes in handy when you need to beat egg whites separately or whip up some cream as part of a recipe. You can also store your mixture, cream or whatever right in the bowl—one less dish when it's time to clean up. Unlike the paddle and whisk that come as standard items with a Kitchenaid Mixer, the flex beater goes right to the edge of the bowl. No more stopping to scrape down the sides while mixing—less mixture ends up on your fingers and in your mouth—bonus points just for that!
Coffee Machines:
Mmmm. Coffee! Nothing says good morning like a freshly made cup of your favourite brew!
Wake up and smell the coffee with one of these!
Single Serve Coffee Brewer
4-Cup Espresso & Frother
5-Cup Coffeemaker
Add a coffee grinder and filter for the best "coffee fix" gift!
Coffee & Spice Grinder Combo
Basket Coffee Filters
Gold Tone Filter Basket
---
Now for some luxuriously indulgent pamper gifts!
It's all too easy to get lost in the celebrations and eat ourselves silly during the holiday season. This year treat yourself and others with some gifts that spoil the senses with a healthy dose of pampering instead of food!
Essential Oils 9 Pak
Essential Oil Diffuser
Shiatsu Neck Massager
Manicure & Pedicure Kit
ROGER & GALLET Soap
C h a n e l No. 5 Body Lotion
---
The best gifts of all are those that are chosen and given with love! I do hope this low carb keto gift list helps you find just the right thing for yourself and loved ones. May you all share safe and happy times together as you farewell this year and welcome in the next.