Low Carb Cheesecake Berry Parfait
Rich, creamy and so berrylicious!
One taste of this low carb cheesecake berry parfait and you'll be a fan for life. Corny, but true, the simple things in life are often the best. The proof is in the tasting!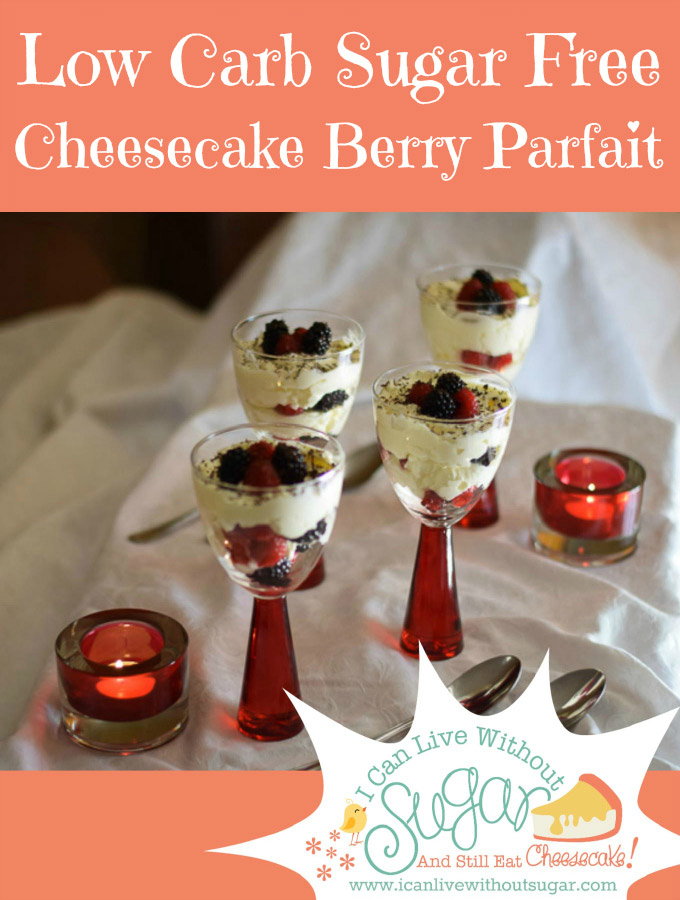 This low carb cheesecake berry parfait is quick and easy to make!
NO cooking and only a handful of ingredients—can't argue with that!
It's a breeze to whip up (20 minutes, tops!).
Just chill in the fridge for 1-2 hours and it's ready to eat.
Perfect for low carb and keto folk watching the weight.
Suitable for diabetics and those with PCOS (poly cystic ovarian syndrome).
It's also gluten free so a great choice for anyone with celiac disease.
But the best thing of all is how good it tastes!
Like all the recipes here on this site, this low carb cheesecake berry parfait contains no sugar!
They taste like sugar without all the carbs
Can be used on their own or mixed together

Are usually well tolerated
I prefer to powder Xylitol and Erythritol before using them
I find they dissolve more easily with liquids and blend better with other ingredients this way.
Did You Know That Powdered Xylitol or Erythritol Makes Excellent Low Carb Confectioner's (Icing) Sugar?
It's Easy to Powder Xylitol and Erythritol When You Have the Right Tools!
Here's what I use for the job
A Bamix Processor Attachment or Coffee Grinder – either of these is perfect for small quantities.
A Vitamix Dry Jug – this can powder larger amounts in no time flat!
With these appliances I'm able to turn Xylitol or Erythritol granules into a fine, silky powder in minutes!
Just like chocolate, Xylitol is highly toxic to animals. Keep Xylitol and any food or drinks containing it well away from pets.
This low carb cheesecake berry parfait is the perfect dessert for sugar-free/low carb eating!
Serve it proudly in your…
High end crystal
"Up-cycled" find, or
Budget-buy
Whichever you choose, it's sure to impress.
My Recipe for Low Carb Cheesecake Berry Parfait!
Save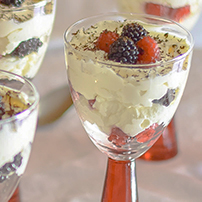 Low Carb Cheesecake Berry Parfait
Berries, cheesecake, chocolate sprinkles - this one has the lot - well, everything but the sugar! Quick and easy to make, this will bring a touch of elegance to your table. Looks amazing served in upscale, vintage or retro glassware.
Print
Pin
Rate
Ingredients
Cheesecake Layers
1

cup

[240ml] heavy whipping cream

1/4

cup

[60ml] heavy whipping cream

1

8 oz.

[250g] block Philadelphia cream cheese, room temp (see recipe notes)

1

small lemon

juice and zest

1/8

cup

powdered Xylitol**

4

drops

Ez-Sweetz

1/4

tsp

Lorann lemon or cheesecake extract/oil
Berry Layers
2

cups

fresh berries

fresh, washed, patted dry (hulled/sliced)

2/3

cup

frozen berries

can use fresh if you wish

1

tsp

Lorann raspberry extract

1/2

tsp

powdered Xylitol

2

drops

EZ-Sweetz

1/4

tsp

Glucommanan or Thick-It-Up

(thickener)

1

square

Lindt chocolate, 90% cocoa

grated

Extra whipped cream if desired

Three extra berries/or one strawberry per parfait
Instructions
To Make Cheesecake Layers
Put 1 cup cream into a bowl and beat with an electric mixer until thick. Set aside.

Cut cream cheese into cubes and put in a bowl together with extra 1/4 cup of cream. Beat together with a whisk or electric mixer until smooth. Add remaining cheesecake ingredients (but not the whipped cream) to cream cheese mixture and beat until smooth and creamy.

Now fold the 1/4 cup of whipped cream into the whipped cream cheese mixture, a little at a time, until both mixtures are thoroughly combined.

Test a small spoonful of the mixture for sweetness add extra if desired.
To Make Berry Layers
Put the 2/3 cup of fresh or frozen berries into small glass bowl, cover with cling wrap and nuke in microwave for 1 min. Remove from microwave and add berry extract, sweetener, Glucomannan or Thick-It-Up and then pour into a blender. (I use a Vitamix)

Blend until berries are crushed and the juice takes on a thin, syrupy consistency. There will only be a small amount of berry syrup so use a spatula to scoop out every last bit

Add crushed berry syrup to the 2 cups of fresh berries and toss through the berries until they're evenly coated.
Assemble Cheesecake and Berry Layers
Add heaping spoonful of berries to bottom of each parfait dish

Next add heaping spoonful of cheesecake mixture to each dish

Continue, alternating layer of berries and cheesecake, finishing with a layer of cheesecake.
Decorate
If taller parfaits are preferred, add extra whipped cream to final cheesecake layer. 

Finally, top each parfait with some berries and sprinkle with finely grated chocolate

Chill 1-2 hours in fridge before serving. Enjoy!
Tips:
My pictured red parfait goblets each have a 1-1/2 cup capacity, yielding 4 servings from this recipe. Use a measuring cup filled with water to check the capacity of yours to calculate how many servings they will give you.

Cream cheese is easier to mix if it's at room temperature. To soften cream cheese that's straight from the fridge, cube it first, cover with cling wrap and nuke for 30 seconds.

Put a little of the final mixture into a small container to chill alongside your prepared desserts. You can then test the dessert in the small container for doneness, without having to touch the prepared desserts you plan to serve.
Notes
**Xylitol is toxic to animals and may prove fatal if ingested. Store Xylitol and/or any foods or drinks containing it away from pets. For this reason, some people prefer to use Erythritol another sugar alcohol which does not affect pets. Erythritol is a little less sweet than Xylitol so you may need to use a little more. Use my free sugar swapper to see exactly how much Erythritol to use instead of Xylitol.
Where to Buy Ingredients:
NOW Xylitol
NOW Erythritol 
Nutrition
Calories:
164
kcal
|
Carbohydrates:
8
g
|
Protein:
1
g
|
Fat:
15
g
|
Saturated Fat:
9
g
|
Cholesterol:
54
mg
|
Sodium:
16
mg
|
Potassium:
114
mg
|
Fiber:
3
g
|
Sugar:
2
g
|
Vitamin A:
595
IU
|
Vitamin C:
20.3
mg
|
Calcium:
40
mg
|
Iron:
0.4
mg
Save
Save
Save
Save
Save
Save
Save
Save
Save
Save
Save
Save
Save
Save
Save
Save
Save
Save
Save
Save
Save
Save
Save
Save
Save
Save
Save
Save
Save
Save
Save
Save
Save
Save
Save
Save
Save
Save
Save
Save
Save
Save
Save
Save
Save
Save
Save
Save
Save
Save
Save
Save
Save
Pretty dishes make the layers of berries and cheesecake in this dessert stand out!
I found the red glasses in my parfait photo at my local goodwill store. I have to say I was thrilled to bits with my funky retro find.
Here's some gorgeous dessert-ware that you might like!
Libbey Red Short Pilsner Glasses with Colored Accent – 16 oz. Set of 6Check Price at Amazon
Red Godinger Dublin Goblet 9 oz. with Colored Stem Accent -set of 2Check Price at Amazon
Red Libbey Cosmopolitan Beverage Glass Colored Accent 14 oz Set of 6Check Price at Amazon