Best ever low carb, sugar-free condensed milk
Sticky, gooey and oh so good!
This low carb, sugar-free condensed milk tastes just like the real thing—only better. Easy to make and beyond delicious. It's thick and rich, hits all the right notes and is truly decadent and luscious.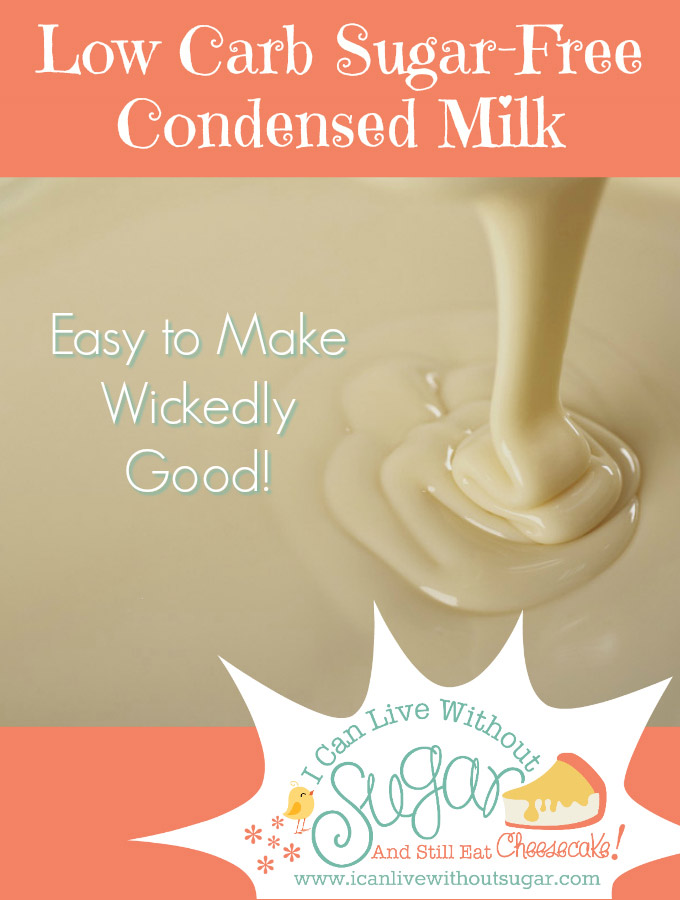 I owe my inspiration for this recipe to Jamie Van Eaton's creation over at Your Lighter Side. Seems like we're equally obsessed with this "sweet" stuff—made low carb, sugar-free style, of course!
My version of low carb, sugar-free condensed milk makes a double batch (equal to approximately two tins of the regular kind but without the sugar!). I love having this on hand! Makes it possible to give old-time favourites a low carb, sugar-free comeback. Try it in this low carb, sugar-free citrus cheesecake. There'll be no regrets. Promise!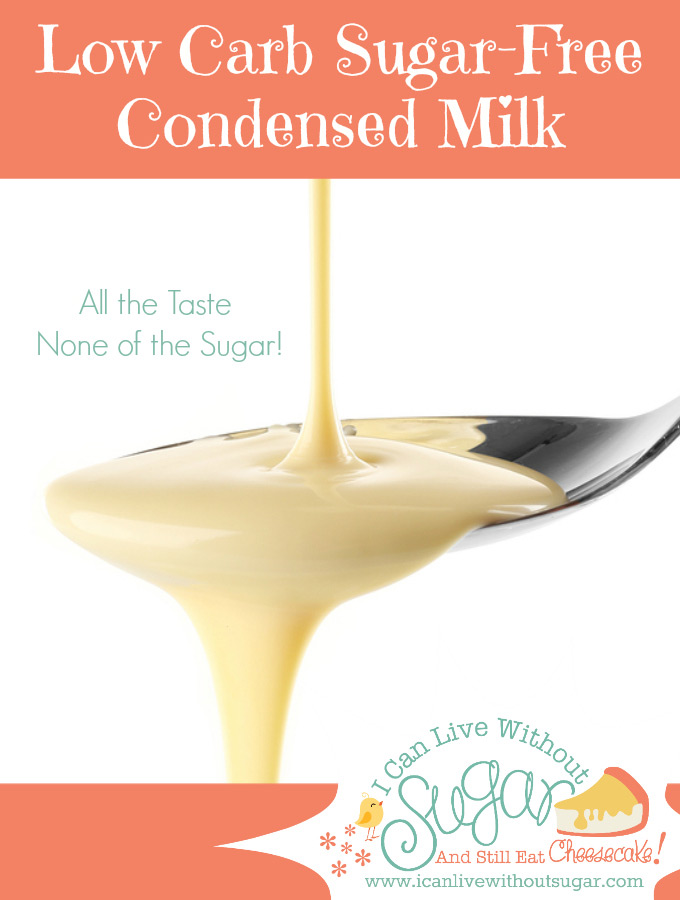 Two sweeteners are better than one!
I use two sweeteners in this recipe for low carb, sugar-free condensed milk. In fact, I use more than one sweetener in most of my recipes. The reason for this is it enhances the sweetness and provides greater depth and balance.
NOW Foods Xylitol Natural Sweetener – 1 lbCheck Price at Amazon
The first sweetener I use is Xylitol. It's the closest thing to sugar that I've ever tasted! It's actually a sugar alcohol that has little impact on blood sugar levels. It's an excellent sugar substitute for those who are insulin resistant or suffer from diabetes, as well as anyone watching their weight. To learn more about sugar-free sweeteners, head on over to the Sugar 101 page.
The most economical way to buy Xylitol is in the granulated form. It's cheaper in larger quantities but a 1 lb bag from Now Foods is a good place to start for a first time purchase. It's also available in a fine, powdered form that's much more expensive.
Did you know that powdered Xylitol is marketed as a sugar-free substitute for confectioner's sugar?
Powdered Xylitol is great for frostings—and everything else. I prefer powdered Xylitol as it mixes more easily with other ingredients and is less likely to crystalise than granules. I use it in all of my recipes that require a sweetener but I NEVER pay more!
Why pay extra when you can grind your own? Here's what I do!

I use the grinder attachment that came with my Bamix immersion mixer. It grinds Xylitol granules into a super fine, silky powder in less than a minute! If I'm grinding up a really large batch, I use my Vitamix dry blender jug (it's also great for making nut flours). An inexpensive coffee grinder like the one below by Kitchenaid should also work well.
Bamix Deluxe Immersion Hand Blender with Dry GrinderCheck Price at Amazon
Vitamix 7500 Blender Super Pack with 32oz Dry Grain JugCheck Price at Amazon
KitchenAid BCG111OB Blade Coffee Grinder – Onyx BlackCheck Price at Amazon
Can Erythritol be used instead of Xylitol in this low carb, sugar-free condensed milk recipe?
The short answer is YES. Erythritol is also a sugar alcohol, is granulated and can be ground into a powder. Just be aware that it's not as sweet as Xylitol, so you'll need to use more. For exact measurements when substituting one sweetener for another or just replacing sugar be sure to download a copy of my free sweetener converter. It includes most popular sweeteners—so no more guesswork!
EZ-Sweetz is the second sweetener used in this recipe
It has a clean, sweet taste with no trace of bitterness! This sweetener comes in liquid form and has zero carbs! Just one drop equals 2 teaspoons of regular white sugar sweetness.
3 Packs 0.5 oz – Liquid Sweetener 450 Servings/BottleCheck Price at Amazon
Ez-Sweetz works beautifully with Xylitol or Erythritol and comes in a handy triple pack, with 450 servings in each little bottle.
I use Ez-Sweetz drops to sweeten lots of things. It's perfect with Greek yoghurt and berries. It's also great for hot drinks. I don't sweeten my coffee but do add a drop of Ez-Sweetz to hot cocoa along with a good glug of cream. This is a great tummy filler that makes it easier to resist unhealthy temptations—especially at night-time!
But back to today's recipe….
Silky smooth, sweet and creamy—low carb, sugar-free condensed milk doesn't come any better!

By using just the right mix of sweeteners, this recipe passes the finger-dip taste test with flying colours. It's an absolute KEEPER. Just be careful when you test it for thickness while it's chilling in the fridge. One lick can turn into many! Don't make me say I told you so!
This is truly the best tasting low carb, sugar-free condensed milk. It works like a dream. I sure hope you like it! Can't wait to hear what you think of it via email or a comment.
Okay, time for the recipe!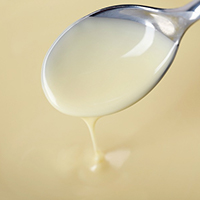 Low Carb, Sugar-Free Condensed Milk
Low carb, sugar-free condensed milk made easy! This recipe makes low carb, sugar-free condensed milk equivalent to two tins of the regular kind but without the sugar.
Print
Pin
Rate
Servings:
2
Whole batch makes low carb, sugar-free condensed milk equal to 2 tins of the regular kind.
Ingredients
3

cups

cream

3

oz

[90g] butter

1

tsp

vanilla extract

1/2

cup

Xylitol*, powdered

see recipe notes

8

drops Ez-Sweetz** or equivalent sugar-free sweetener

see recipe notes
Instructions
Add all ingredients to a saucepan. Stir over medium heat until well mixed (do not boil). Simmer gently for around 20 minutes, stirring occasionally, until mixture is the consistency of thin custard and coats the back of the spoon.

Pour mixture into a large bowl and cover with cling wrap (press cling wrap down onto the surface of mixture to avoid a skin forming).

Chill in fridge (mixture will thicken further). Ready to use in around 3-4 hours.
Nutrition
Calories:
1542
kcal
|
Carbohydrates:
12
g
|
Protein:
7
g
|
Fat:
166
g
Save
Save
Save
Save
Adorable Cat Spoon RestCheck Price at Amazon
Essential Silicone SpatulasCheck Price at Amazon
Easy Grip KUKPO Mixing BowlsCheck Price at Amazon