Low Carb Sugar-Free White Chocolate Truffles Are The Perfect Treat!  
I've been working hard on this recipe for low carb sugar-free white chocolate truffles. After quite a few tries, I'm ready to share. I hope you enjoy them as much as I do!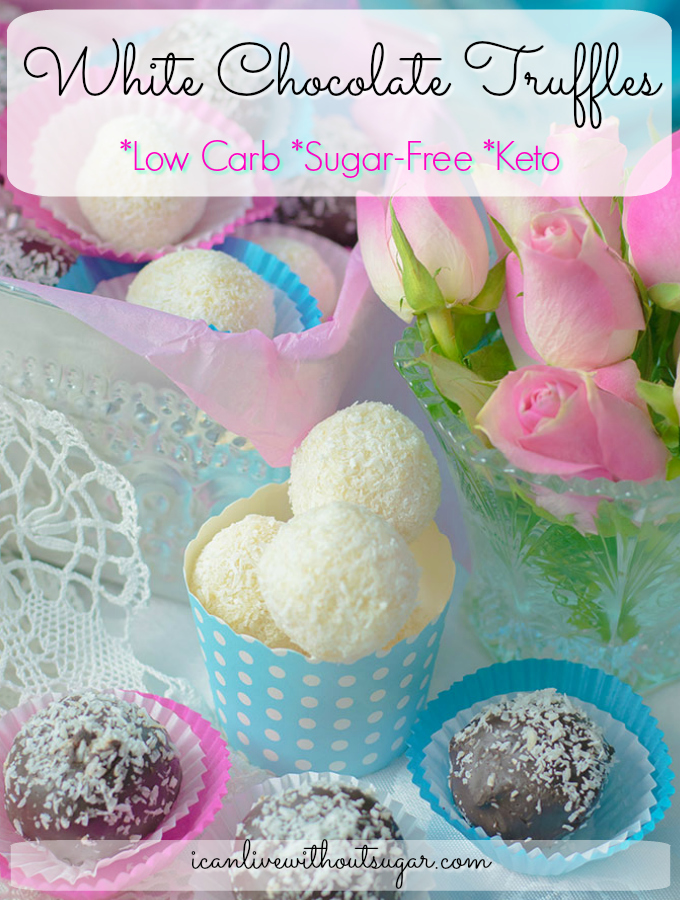 Chocolate…
I don't know about you, but I was born with the chocolate gene–hardcoded in my DNA.
Yes, please, to all three!  However, I do have a particular fondness for white chocolate!
Did You Know That White chocolate is not chocolate at all?
The main components of white chocolate are cocoa butter and lots of sugar.
Because it doesn't contain any chocolate solids (cocoa powder), white chocolate is considered a derivate of the "real" thing!
Not that we white chocolate lovers care one little bit! 
We're just in it for the creamy, white chocolate taste and melt-in-your-mouth sensation. Am I right?
Which is exactly what I've tried to achieve with this sugar-free recipe. The truffles are smooth and creamy, not cloyingly sweet, but sweet enough to satisfy a yearning for white chocolate (but without all the sugar).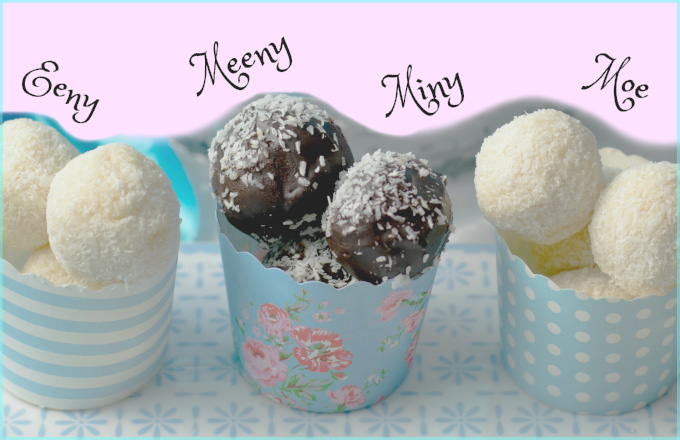 Yum! These truffles taste delicious rolled in coconut and dipped in chocolate. I don't know which I like best—it's too hard to pick!
Regular white chocolate truffle recipes are often made with white chocolate bars or wafers loaded with sugar.
These low carb, sugar-free white chocolate truffles are made from scratch, using cocoa butter, pure vanilla extract, coconut butter and other low carb, sugar-free ingredients that I share in the recipe.
In addition to tasting great, these truffles are easy to make.
Other than melting some ingredients (super quick in a microwave), everything is mixed in a blender.
Who doesn't love an easy clean-up?
The mixture is chilled, shaped into balls and rolled in finely shredded coconut.
As an optional extra there's also a chocolate dipping mixture included in the recipe (enough to coat half the truffles).
As always, I recommend measuring ingredients with USA imperial system measuring cups and a good set of kitchen scales with options for both imperial and metric. The dual scales below go one step further with two stainless steel weighing platforms. The weighing capacity of the large platform is 1g to 10 kg. The weighing capacity of the small platform starts at an incredibly low 0.01g up to 300g, making it perfect for spices and other lightweight ingredients! To ensure smooth, creamy truffles, you'll also need to use a good quality blender. I use a Vitamix, but any reputable high-speed blender should do.
Vitamix Blender
Dual Kitchen Scales
Measuring Cup & Spoon Set
Friends, if you have a thing for white chocolate, you must try these truffles! They keep for around a week in the fridge (take out 5 minutes before serving). They can also be frozen. Eat them straight from the freezer for the best white chocolate fat bombs ever! I imagine they'd be good for at least a month this way (if they last that long!). Just be sure to store them in an airtight container.
These truffles are worth making. I can't wait to hear what you think of them so please drop me a line or leave a comment.

Now Get The Recipe!  
---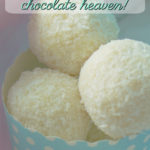 Low Carb Sugar-Free White Chocolate Truffles
Total Time
3
hours
50
minutes
Ingredients
Truffle Mixture:
1-1/4

cups

150g cocoa butter, melted

1/3

cup

70g coconut butter (not coconut oil), melted

1/2

cup

75g raw unsalted cashews

1/2

cup

150g Vitafiber or Fiberyum sugar-free syrup

3

t

sugar-free pure vanilla extract 

6

T

66 g powdered *xylitol

1/2

cup

+ 2 T cream

150 ml

1/8

t

xanthan powder

1

generous pinch salt

50

g

coconut powder*

Just like chocolate, xylitol is toxic to animals and may prove fatal if ingested. Store xylitol and/or any foods or drinks containing it away from pets.
Coconut for Rolling:
1-1/4

cups

finely shredded unsweetened coconut

dessicated*After rolling all truffles in coconut there will be some left over. Reserve this to sprinkle on top of half the truffles should you decide to coat them in the optional chocolate dipping mixture.
Optional Chocolate Dipping Mixture (enough to coat half the truffles):
7

squares

70g Lindt 90% chocolate

7

T

cream

6

t

powdered *xylitol

1-1/2

t

pure vanilla extract

1/2

t

olive oil*

Just like chocolate, xylitol is toxic to animals and may prove fatal if ingested. Store xylitol and/or any foods or drinks containing it away from pets.
Instructions
To Make Truffles
Place cocoa butter into a small heatproof glass dish and cover with cling wrap. Heat in microwave for approximately 3 minutes, in 1 min increments, until melted.

Place coconut butter into a small heatproof glass dish and cover with cling wrap. Heat in microwave for approximately 1 minute, in 30 second increments, until melted.

Put melted cocoa butter and coconut butter into high speed blender first and then add rest of truffle ingredients. Blend on high speed for 1 minute. Stop blender and using a spatula scrape down sides. Blend for a further two minutes, in one minute increments, or until mixture is smooth and thoroughly combined. 

Use a spatula to scoop out all of the truffle mixture into a clean bowl. Cover bowl with cling wrap and leave in fridge to chill for a few hours until set (it may look quite hard, but that's fine, as the mixture will soften very easily once out of the fridge).

Roll heaped tablespoons of mixture into balls (makes approximately 30 truffles) and roll in coconut. If coconut mixture becomes too soft, return to fridge and roll in batches. It helps to rinse hands in cold water and pat dry with kitchen paper while rolling as mixture melts easily.

Put truffles on a tray lined with greasproof paper and cover with cling wrap. Leave to chill in fridge until ready to eat. Remove from fridge 5 mins before serving. Eat soon after as truffles will become too soft if left out of fridge for an extended period. Truffles may also be frozen - bring back to room temperature before eating. Alternately, enjoy them straight from the freezer - they make the most amazing white chocolate truffle fat bombs eaten this way.Optional: To Make Chocolate Dipping Mixture (Enough to Coat Half the Truffles)

Put cream, xylitol and vanilla extract in a small heatproof glass bowl, stir continuously until xylitol is completely dissolved. This step is important and eliminates any chance of grittiness in your final chocolate mixture. Break Lindt chocolate into pieces and add to the cream mixture. Put bowl into microwave (do not cover with cling wrap as you want to avoid any chance of moisture getting into your chocolate).

Nuke for 40 seconds (chocolate can scorch and burn quickly, better to be safe than sorry, by heating for the minimum amount of time). Remove bowl from microwave and using a dry spoon, stir mixture continuously, allowing the heat of the cream to melt the chocolate. Continue stirring till mixture comes together and looks like melted chocolate. Finally, add the olive oil and stir well to give your chocolate mixture a lovely glossy finish. Do not use more than 1/2 tsp of oil or your chocolate mixture will not set properly.Coat Half Your Coconut Covered Truffles with Chocolate Mixture

Place some boiled water into a bowl slightly smaller than your chocolate mixture bowl. Carefully place your chocolate mixture bowl over the top of the hot water bowl, creating a tight seal between the two. Do not allow any steam or liquid to splash into your chocolate mixture or it will sieze and be unusable. Keeping your chocolate mixture slightly warmed makes it easier to coat your truffles. 

Take half of your coconut covered truffles (approx 15) from the fridge and put into a bowl. Line a baking tray with greaseproof paper. Use leftover coconut from rolling truffles earlier to create small mounds of coconut (one for each truffle) on the paper lined tray.

Pierce each truffle with a toothpick. Coat truffles one by one. Hold each truffle by the toothpick over the chocolate mixture bowl and spoon chocolate mixture over the truffle, turning the truffle as you go until chocolate covers all sides. Hold truffle upside down and spoon a little chocolate over the bottom of the truffle and allow excess chocolate to drip back into the bowl.

Place the chocolate covered truffle "truffle side down" (e.g. toothpick pointing up into the air) onto a mound of coconut, pushing it down gently until steady. Repeat for all truffles. Drape cling wrap over the toothpicks sticking upwards on the tray and return tray to fridge until chocolate topping hardens.

Remove tray from fridge and position tines of fork over each toothpick, moving the fork down gently until it touches the base of the truffle. Hold the truffle steady with the fork and gently remove the toothpick. Repeat for all truffles. Turn truffles coconut side up and place into mini paper cases and return to tray. Cover with cling wrap and chill until ready to serve. The truffles will keep for a week in the fridge. Eat truffles 5-10 minutes after removing from fridge to avoid chocolate melting. 

The chocolate dipped truffles may also be frozen (once completely chilled on the tray, move truffles to an airtight container lined with greasproof paper). The frozen truffles should be good for around a month. They also make the most amazing white chocolate fat bombs eaten straight from the freezer.
Organic Cocoa Butter
Pure Vanilla Extract
Organic Coconut Butter
FREE Sugar Swapper
NEED HELP REPLACING SUGAR?

This FREE Sugar Swapper has got you covered.
Eliminates guesswork
Contains a variety of popular sugar free sweeteners
Swap sugar for healthier options the easy way!
GET IT NOW!