Hi there,
I've been dying to share the recipe for this low carb zucchini and basil soup but it keeps disappearing (yum!). Finally, here it is. I do hope you love it.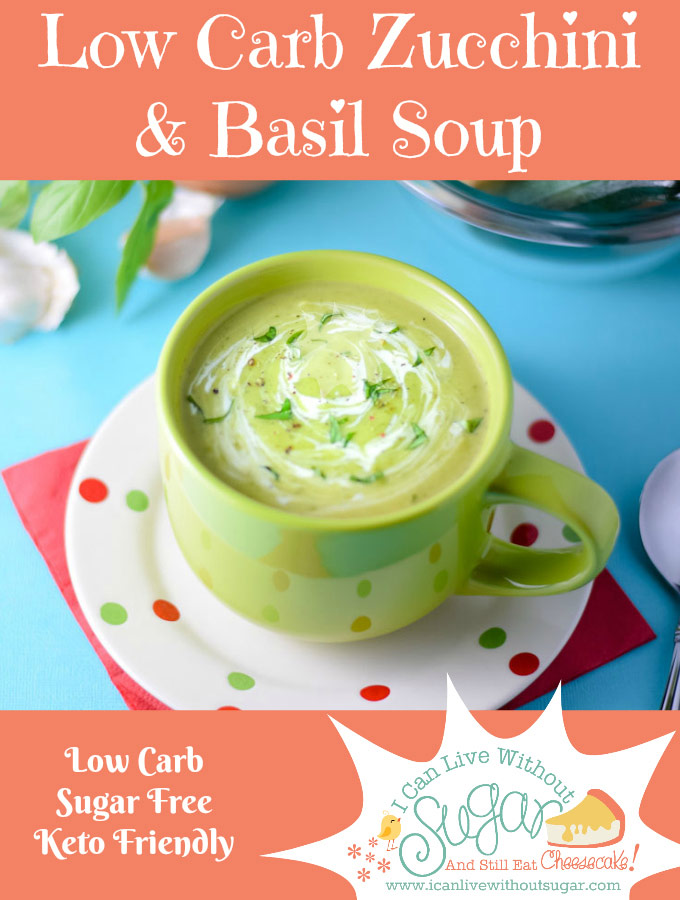 Why Zucchini & Basil You Ask?
They're both low carb and packed full of nutrition.
It takes very little prep to make soup based on these two super food ingredients.
They combine to make a bowl of creamy, green goodness that really hits the spot.
Low carb zucchini and basil soup is the perfect entrée, lunch-time or any-time meal.
In the winter months this low carb zucchini and basil soup makes a great comfort food that will have you snuggling up on the couch with a cup next to the fire!
Fresh Ingredients from the Garden
The husband has been hard at work planting our tree-change garden and we have zucchini and basil ripe for the picking. I can't tell you how good it feels to gather the fixings for a meal straight from the garden.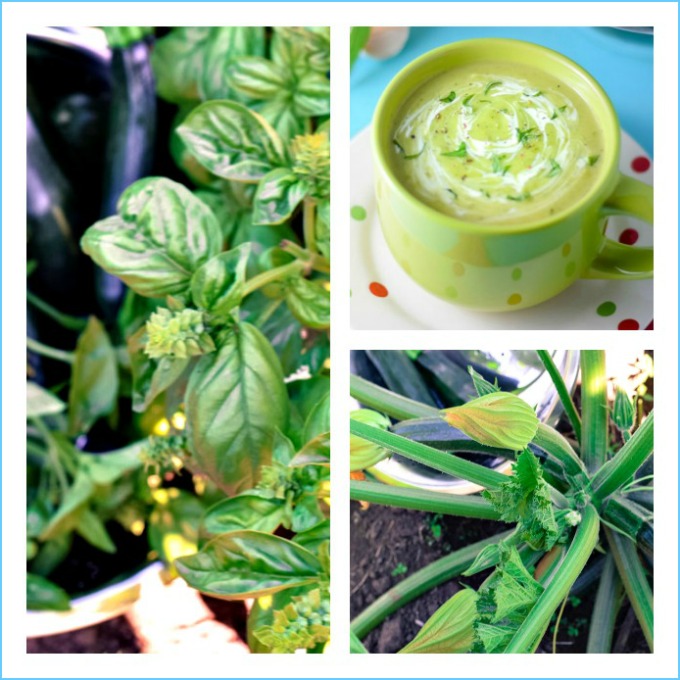 It's Quick & Easy to Make Low Carb Zucchini and Basil Soup!
Ready To Eat in 30 Minutes!
You don't need to work up a sweat dicing and slicing, we're going to make this as super simple as possible!
Once cleaned, chop veggies roughly and add to pan with a few simple ingredients (that I share in the full recipe below).
No fuss, no muss!
When veggies are fork-tender it's time to puree with a hand blender!
You'll Need a Good Hand Blender for Premium Creaminess!
Bamix Pro-2 Hand Blender
I use my trusty Bamix for this step because it's the UBER of all hand blenders. It's a powerful immersion hand blender that gives all your dishes and desserts that professional chef's touch.?
If you own a regular stick blender or upright blender you can use that too.
The Bamix Pro-2 has a longer 7.4 inch (19 cm) shaft which is great for pureeing soups in deeper pots and it comes with a 5-year warranty.
A good immersion hand blender will serve you well for many years and it's great for making creamy soups like this low carb zucchini and basil soup recipe.

The hand blender is what is going to make your soup "souper" creamy!
This recipe calls for low carb chicken or vegetable bouillon (stock) powder if you prefer.
You can use your own homemade stock if you have some on hand but I like to use powders so I don't have to spend hours making my own.
I prefer a stock powder like this one here.
It's low carb, nutrient dense and quick to grab off the shelf and toss in boiling water when I'm making soups like these.
I don't have to think about whether or not I have stock on hand when I keep some of this in the kitchen.
My Low Carb Zucchini and Basil Soup Recipe!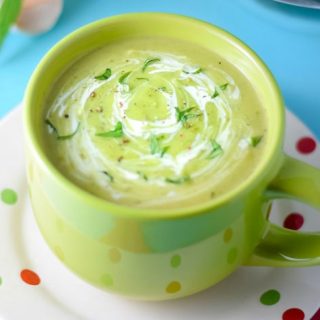 Low Carb Zucchini and Basil Soup
A delightfully creamy, low carb zucchini and basil soup. It's packed with green goodness and tasty to boot!
Print
Pin
Rate
Ingredients
6

medium zucchini*

roughly chopped

2

medium brown onions

roughly chopped

2

large cloves garlic

roughly chopped

1

large handful of fresh basil**

stalks removed

1

tbs

olive oil

5

cups

of homemade chicken or vegetable stock***

1/4

cup

heavy whipping cream

plus little extra to swirl into individual bowls when serving

1/4

tsp

salt

1/4

tsp

freshly ground black pepper
Instructions
Clean vegetables and basil thoroughly. Remove coarse ends from zucchini and stems from basil and discard.

Chop zucchini, onion and garlic roughly, leave basil leaves whole

Add olive oil to a medium-to-large sized saucepan and place on cook-top at low to medium heat

Add chopped veggies to pan and saute lightly in oil for 1-2 minutes

Add 5 cups of prepared stock to the pan and stir (cold homemade stock is fine but stock made with bouillon stock powder and boiled water will help speed up the cooking process)

Add basil leaves to the pot, and stir.

Add salt and pepper and stir into the soup

Increase the heat until soup comes to a boil and then reduce heat to a simmer and put lid on saucepan (this reduces evaporation)

Cook soup for 20 minutes or until zucchini is just fork tender. (not mushy)

Remove soup from heat and blend with Bamix or regular stick blender directly in pot, blending until smooth. Alternatively, an upright blender may be used, just be sure to puree the soup in small batches to avoid risk of scalds!

When soup is smooth add 1/4 cup heavy whipping cream and use Bamix, regular stick blender or upright blender to mix thoroughly.

Taste a little of the soup and adjust seasoning if needed.

To serve, ladle into individual bowls/ramekins, swirl in 1 tsp of cream per bowl and sprinkle with finely chopped basil.

Enjoy!
Notes
*approx. 2.5 lbs. [1.2kg]
**approx. 1 oz. [30g] of leaves plus couple extra sprigs for garnish
*** or 5 cups stock made with low carb chicken or vegetable bouillon
Nutrition
Calories:
115
kcal
|
Carbohydrates:
11
g
|
Protein:
4
g
|
Fat:
7
g
|
Fiber:
2
g
Time To Shop
These are the perfect soup supplies for this recipe!