Ditching the Sugar
For some of us ditching the sugar can be tougher than quitting cigarettes.
After all, we don't need to smoke—but we do need to eat!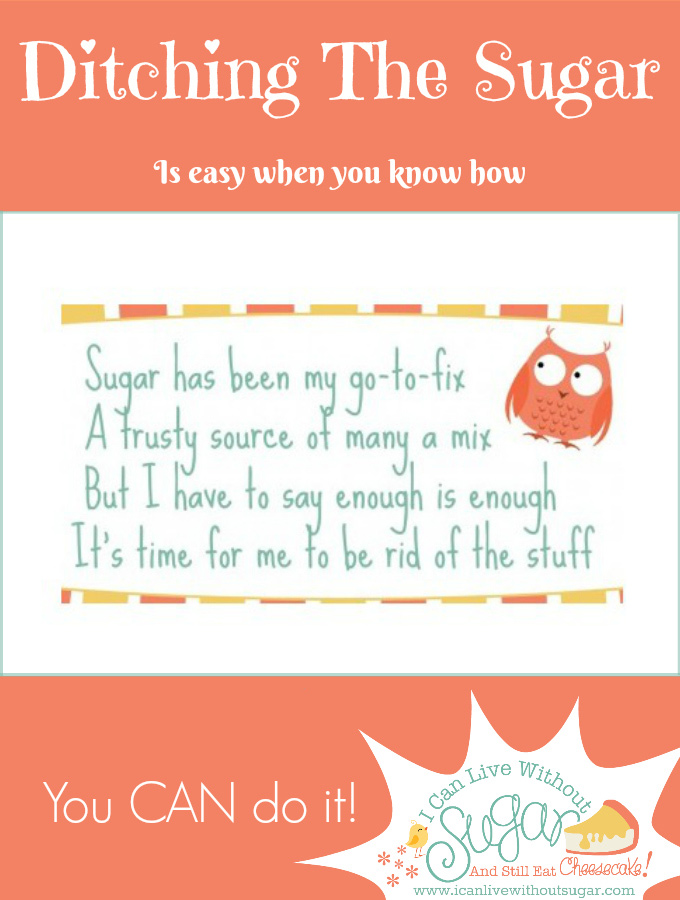 Ready for the Good News?
It's Easy When You Know How!

Ditching the sugar doesn't have to be hard. It's a matter of learning which foods work with your body instead of against it. Foods that nourish you from within and eliminate cravings that mess with your best intentions.
Keep it Simple
Follow these guidelines as closely as possible and ditch the sugar habit once and for all.
– Large 32oz Motivational Water Bottle – Time Markers Track Your Water Intake
A positive mindset really helps when ditching the sugar, together with keeping it simple.
Eat a range of real (mostly unprocessed) foods that are low carb, moderate in protein and high in healthy fats.
Eat when hungry, stop when full—not bursting!

Invest in a water bottle

fill with water—and drink up!
Enjoy sugar-free treats once in a while.
Keto Makes it Easy
Stick to 20-25 g net carbs a day for weight loss.
Eat 30-35 g net carbs a day to maintain weight.
Adjust carbs up/down to suit age/build/activity, etc.
Eat moderate amounts of protein.
Eat good amounts of healthy fats.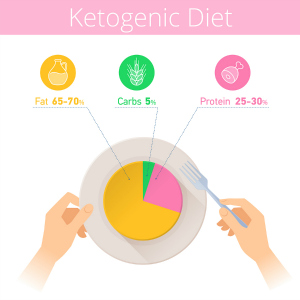 Whether you prefer a laid-back, moderate or super strict approach, at the end of the day it's all about getting back to basics.
Eating the way people used to…
Before the LOW FAT REVOLUTION that helped us get FAT!
Top 10 Tips for Sweet Success
Like anything new, the first few days (weeks) of a new eating lifestyle can be tough—but you are worth it—and you CAN do it!
Start by learning everything you can about a low carb high fat (keto) lifestyle. These Guidelines, FAQ's and the Sugar Free 101 page are a good place to begin.
Eliminate the obvious sugary junk food and drinks, then "white" starchy foods (bread, rice, pasta, flour, etc). Don't worry about being perfect, just get started!
Instead of snacking, try chewing some sugar-free gum (it also freshens your breath which may need a little "help" as your body begins to produce more ketones).
Make easy to prepare meals when you first begin and follow the KISS principle (Keep It Simple Sweetheart)!
Soups and salads are quick and easy and can be prepared ahead in batches (a bowl of this comforting soup is simple to make and takes only minutes to re-heat).
When special occasions put treats on the menu, make them sugar-free, low carb and keto friendly, like this cheesecake or these orange almond cupcakes.
Be kind to yourself, allow (expect!) some slip-ups along the way. Pick yourself up, dust yourself off—and just keep going.
Keep a log of your weekly weight loss, favourite meals, things that helped or hindered your progress. Ditch the things that did not work and keep doing the things that did!
Build your own personal reference library and refer to it often. I can recommend the following which are just some of my personal favourites.
&
By Judy Barnes Baker
By Carolyn Ketchum
By Sten Sture Skaldeman
By Em Elless
By Lisa Shea
By DJ Foodie
Sweet relief



In no time at all you will feel calmer, stronger—and thrilled to bits that you stuck with it.
Sweet bonus



The odds are you'll lose weight and feel great!
Sweet victory

If someone like me (crazy about the sweet stuff) can live without sugar…
So can YOU!
Sweet rewards



You CAN lose weight.
You CAN eat cheesecake (yummo!) and food you could only dream about on a low-fat diet.
You CAN look and feel your very best YOU!
Sweet support

Stay tuned for recipes, tips & tweaks!Save
Save