It's often the little things that give so much joy!
This easy 5-minute sugar-free raspberry jam recipe does it for me. It's low carb and keto, yet sticky and sweet. Just like the regular kind but made without sugar and so much better for you!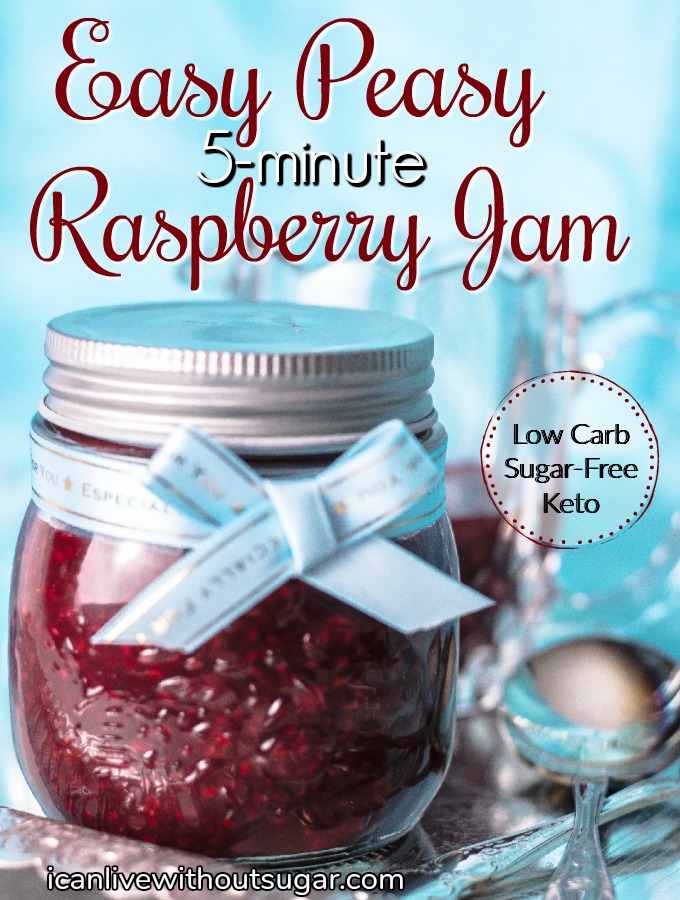 I make this low carb, sugar-free raspberry jam recipe at least once a week so there's always some in the fridge. It's quick and easy and can be enjoyed in a variety of ways.
A mouthful or two eaten straight from the spoon (instant yum)
Swirled into Greek yoghurt and sprinkled with nuts—quickest breakfast ever!
With low carb pancakes and a dollop of cream
Added to sugar-free cupcakes, muffins and cheesecakes
Drizzled over low carb ice-cream
So many delicious options!
If you have a thing for berries and jam, get ready to love this raspberry jam recipe!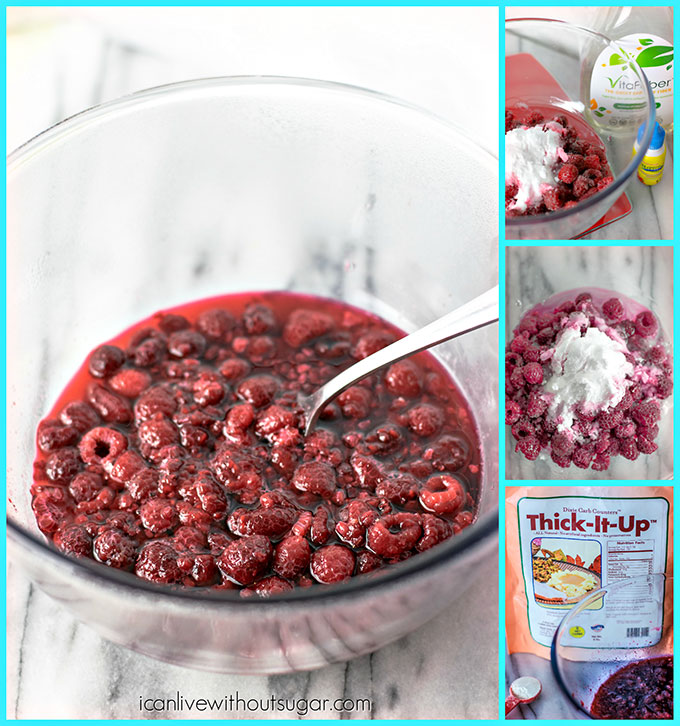 It takes 5 minutes to make and uses only a handful of ingredients.
This keto friendly raspberry jam recipe is low in carbs, high in fibre and packed with healthy antioxidants. It's good for you and tastes good, too.
Win-win!
In addition to two of my fave sweeteners (Xylitol and Ez-Sweetz), I also use a sugar-free syrup in this recipe to give it an authentic jammy mouthfeel.
I can't tell the difference between this raspberry jam recipe and the regular kind even though this one is made without sugar. Great taste and good health make this a recipe to enjoy again and again.  

I don't use fresh raspberries for this recipe as they're only in season for a short time and can be quite expensive. Thankfully, frozen raspberries are available all year round and are much more affordable. I keep a supply on hand all the time for this recipe and other healthy creations. You can substitute raspberries with other berries, e.g., strawberries, blackberries, blueberries, of course, or mix different kinds together. Berries work well with a keto lifestyle as they contain very little natural sugar and are the perfect low carb fruit!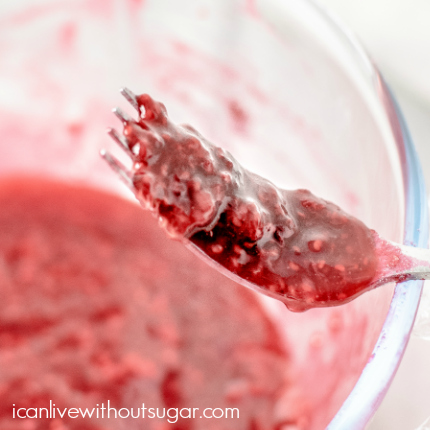 Hands up if you're a hot jam finger licker. Me too! But don't you just hate it when you can't wait to taste and you burn both your finger AND the roof of your mouth? Ouch!
That won't happen with this raspberry jam recipe.
You only need to heat the mixture for 3 minutes in the microwave before mashing with a fork for 2 minutes and blending in the best ever low carb thickener (no lumps people!).
By this stage, the jam will be cool enough for some pain-free licking.
Ready to try this raspberry jam recipe?
Gather your supplies and spend just a few minutes to whip up a batch of this berry heaven! The recipe makes around 1-1/3 cups. Eat in moderation and enjoy it guilt-free!
P.S. I'd love to hear what you think when you give it a try, so come on back and leave a comment (purdy please with no sugar on top).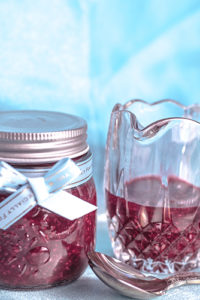 Print
Easy 5-minute sugar-free raspberry jam recipe
Yield 1-1/3 cups
This low carb sugar-free raspberry jam recipe is too easy.
It's a one bowl, 5-minute recipe.
Healthy, delicious, quick and easy!
Ingredients
2 cups (230g) frozen raspberries
1/4 cup Xylitol, powdered
2 drops EZ-Sweetz sugar-free sweetener
1 t Thick-It-Up low carb thickener
Instructions
Put first four ingredients into a glass bowl, cover with clingwrap and microwave for 3 minutes on high
Carefully take bowl out of microwave and remove cling wrap, stir in raspberry emulsion or extract, and mash berry mixture with a fork for one minute
Sprinkle Thick-It-Up evenly over surface of berry mixture and use fork to stir thickener into mixture.
Continue mashing mixture with fork for at least one minute to ensure thickener is evenly incorporated
Test thickness and sweeteness of jam (adjust to taste by adding more sweetener if desired and use a little more Thick-It-Up, i.e. another 1/2 to 1 t, if you prefer your jam thicker)
Pour into a clean glass jar with a lid, keep in the fridge for up to a week.
Notes
Keeps for a week in the fridge
Use cold or heat in microwave for instant raspberry syrup
*(Just like chocolate, Xylitol is toxic to animals and may prove fatal if ingested. Store Xylitol and/or any foods or drinks containing it away from pets).
Courses Sweet Extras, sauces, syrups and jams
Cuisine Low Carb Sugar-Free Keto Friendly
Of course, when you make jam you need a jar. Any of these cuties would be perfect for this recipe.
Kilner Vintage Glass Jar
Sleek Glass Serving Jar
Deocrative Glass Mason Jar
Sweetener Converter...
Replace sugar the easy way with this FREE sweetener converter!

This simple tool eliminates guesswork and does the hard work for you!

It contains the most popular sweeteners and shows you how much to use instead of sugar.

Enjoy!